You're browsing the internet, watching YouTube, gaming, and all of a sudden, your WIFI drops or disconnects on your laptop or desktop. You check your phone's WIFI to see if that has dropped too. Strange, your phone's WIFI and all other devices still have WIFI, just not your laptop or desktop. Sound familiar? Then follow the steps below to resolve the issue on your Windows device.
Don't want to read? Check my YouTube video walkthrough instead:
What Causes Your WIFI To Drop?
While this issue mainly occurs on laptops, it can also affect desktop computers, primarily if the desktop uses WIFI through a USB WIFI ethernet adapter.
The most common reason for this issue is that Windows limits power to the device responsible for providing WIFI, which can be a wireless card or a USB WIFI adapter.
Let's quickly fix that.
Step 1 – Disable Wireless Network Power Saving
To complete this step, we will need to access Device Manager in Windows by following the steps below:
Click on the start menu, and start typing the word "Device."
Click on the Device Manager icon when it pops up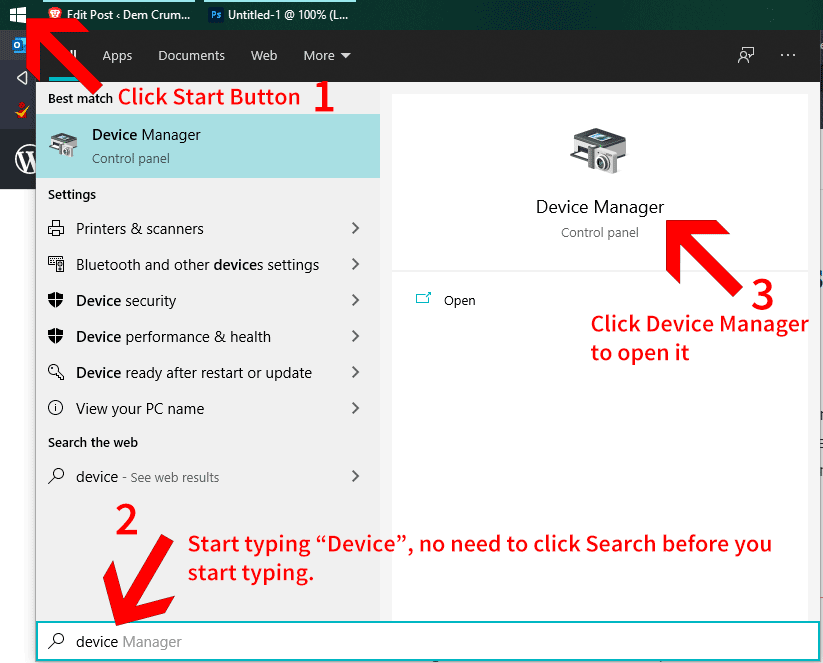 Once Device Manager is open, expand the Network Adapters section.
Find any headings that contain the word Wireless, right click on it and select Properties.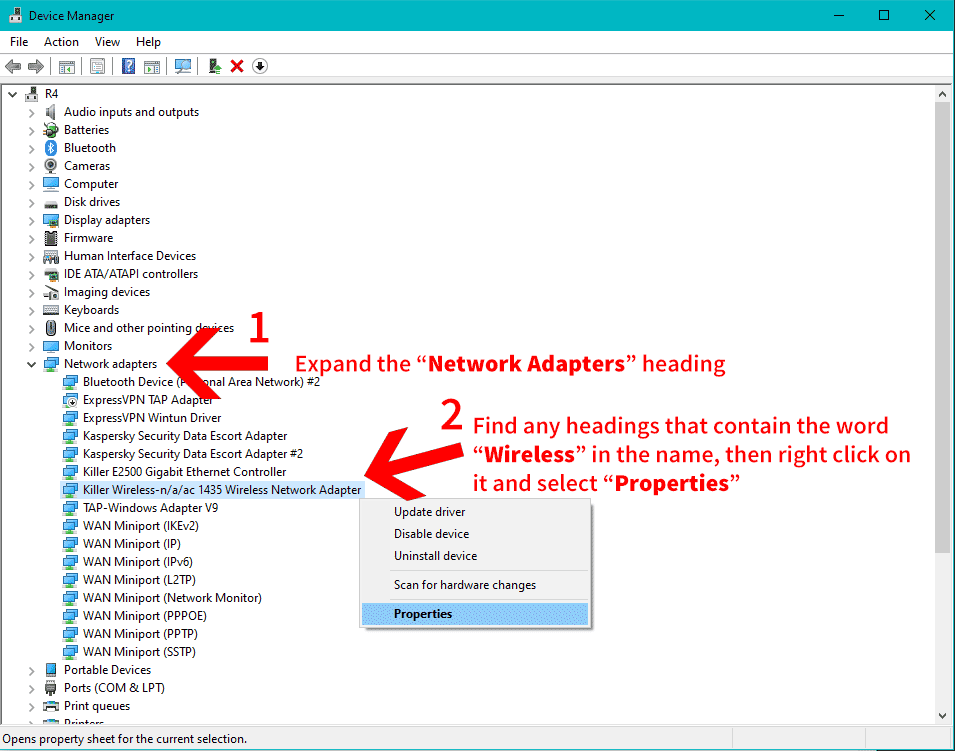 Once the Properties Window opens up, click on the Advanced tab
Find the Dynamic MIMO Power Save entry, and set it to Disable.

Look for any other entries that say power saving, sleep, eco, etc. if they are present and follow the same steps to disable them. If you do not see any other entries, move on to the next step.
Next, click on the Power Management tab
Uncheck or disable the option "Allow the computer to turn off this device to save power" and press OK.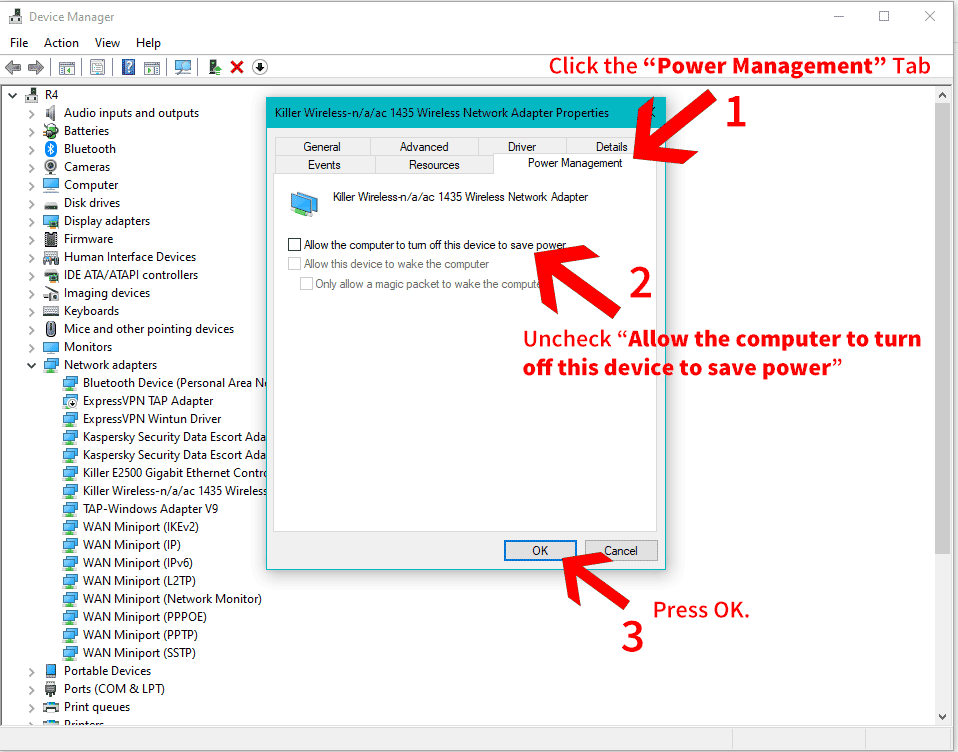 Congratulations, you have completed Step 1. Complete Step 2 to finish the fix.
Step 2 – Adjust Windows Power Options
This is the last step in the fix, and it requires adjusting Windows Power Options for the computer as a whole.
Click on the start menu, and type the words "Power plan"
Click on the Edit Power Plan icon.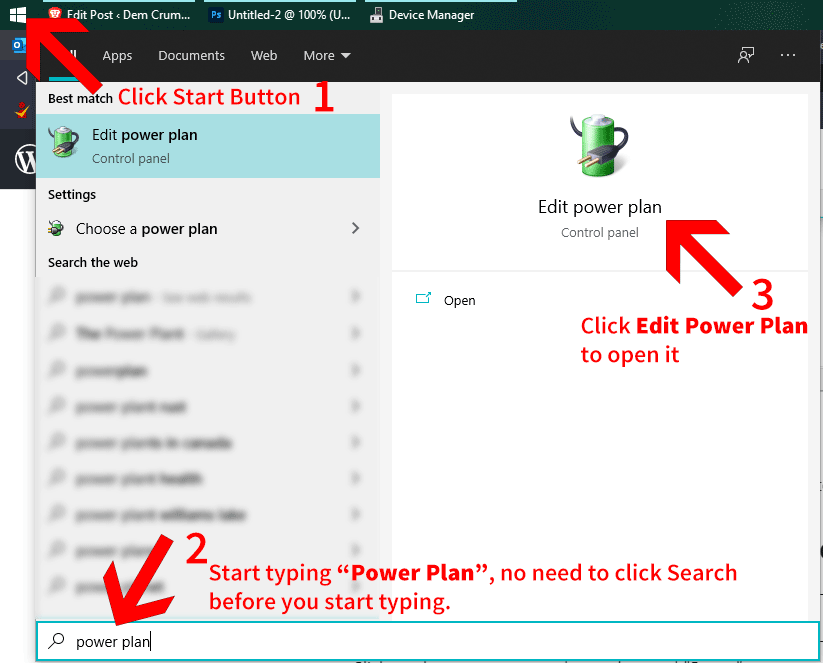 When the window opens up, click on "Change advanced power settings"
On the next window, find "Wireless Adapter Settings" and expand it.
Click on Power Saving Mode next, and set both entries to Maximum Performance for on battery & plugged in
Next, find "USB Settings" and expand it.
Click on USB selective suspend setting, and set both entries to Disabled for on battery & plugged in, then click OK
Laptop users, please note that you will experience some reduced battery life while your laptop is not plugged in due to these settings, since we are telling Windows to not limit power in certain areas.
Summing Up
After making the changes outlined in Step 1 & Step 2, you should no longer face any wifi drops or disconnects relating to Windows. If you still experience these issues while other devices on your network are functioning properly, the hardware that is responsible for WIFI may be to blame.
Desktop users can try to use a different USB WIFI adapter to see if the issue resolves. For laptop users, it is harder to replace the hardware since it may be on the motherboard, or difficult to access. To rule out defective hardware as an issue, laptop users could also buy a USB WIFI adapter and plug it into the laptop to see if that separate device works instead of using the built-in WIFI device in the laptop.
If you are using a USB WIFI adapter, consider using it on another computer to see if the issue still occurs to figure out if the USB WIFI adapter is at fault, if possible.
If you have followed all of the steps and are still experiencing WIFI drops only on your computer while your phone and other devices retain their WIFI, please leave a comment below with more details, and I will try to offer more troubleshooting steps to try.
Good luck!