If your phone doesn't allow you to add more memory card storage, or if you have maxed out your memory card storage, it's time to look at optimizing your phone's storage. Here are a few options that you can try to free up storage space on your Android phone.
Use Android's Built-In Free Up Space Feature
To use Android's built-in Free Up Space feature, you will have to go into your phone's settings, by tapping the Settings Gear icon. Here are the steps:
Tap the Settings Gear Icon or search for Settings on your phone under the app screen
Scroll down and tap the Storage section under the Settings screen
On the Storage screen, tap the text "Internal Shared Storage"
On the next screen, tap the "Free Up Space" button
Select items under the Downloads & Infrequently Used Apps that you want to remove
Tap the Free Up text at the bottom right of the screen when you are done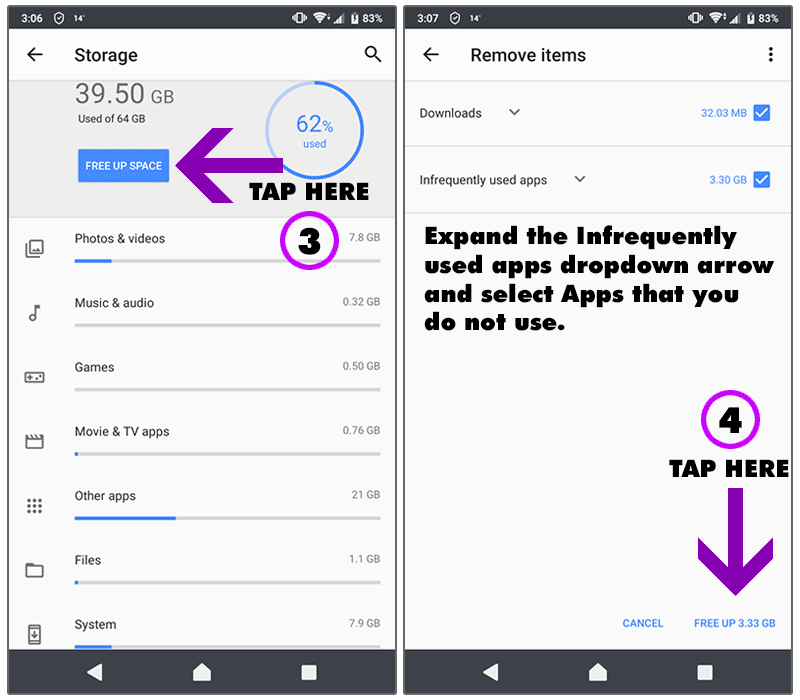 Manually Freeing Up Android App Space
If you cannot clear up enough space using the built-in method above, you can also try to clear up space from individual apps on your phone that you want to keep. Often, these apps will cache certain files that can be safely removed from your phone to free up space. However, it is vital that you DO NOT clear the User Data, only the Cache Data. Clearing the User data will wipe important information such as usernames, passwords, and other data that the app has saved or requires.
Follow the steps below to clear up app storage:
Find an app icon (Chrome, YouTube, etc.) on the home screen or app list and long-press the app icon
On the menu that pops up, tap the icon with an "i" in a circle at the top of the menu.
Tap the Storage heading text on the App info screen that popped up after tapping the "i" in the circle
Tap the CLEAR CACHE button at the top right of the screen. (DO NOT TAP CLEAR STORAGE)
As you can see, after cleaning up just three apps (Chrome, YouTube & Reddit), I was able to free up over 1 GB (1034 GB) of space that the built-in Android Free Up Space feature did not clean up.
Of course, your results will vary based on which apps you have installed, and how much cache each app is using. You may find that many infrequently used apps only have a cache size count in KB (kilobytes), not MB (megabytes). I would suggest skipping these apps since they will not yield any noticeable amount of new storage.
Consider Backing Up Your Photos & Videos
In addition to the apps you have installed on your phone, having a lot of photos and videos can also take up a ton of space on your phone. This is especially true if you have a higher-end phone that takes high-resolution photos and videos, such as 4K video, or higher.
Take a closer look and delete any duplicate photos that you may have, as some phones will take a burst of shots and let you select the best shot. If you have any videos that you no longer need, or videos that were automatically saved to your phone from Whatsapp, or another messaging program, consider deleting them if they are not needed.
You can use your phone's built-in backup feature that will usually connect to your personal Google drive. The default storage that comes with your Google drive is 15 GB, which should be enough for all of your photos. It may not be enough for videos if you have lots of 4K videos.
You can also try to back up all of your music, photos and videos to your laptop or computer. Simply connect your phone to your computer with the supplied charging cable, browse your phone's DCIM (Digital Camera Images) folder and copy its contents to your computer, or to an external hard drive or portable hard drive. I recommend the Samsung T5 SSD, which offers ample storage for photos and videos with quick read and write speeds to make copying go quickly.
Once your files are safely backed up, you safely delete some of the videos and photos from your phone to free up additional space. I always recommend backing up your files to at least one digital media such as a USB drive, internal hard drive, or external hard drive and backing up your files online in the Cloud. This way, if there is ever a fire, theft, or water damage, you will still have a backup in the Cloud.
Consider Buying A Micro SD Card
Now, this is kind of cheating because it doesn't really address freeing up space based on the built-in storage that your phone came with. However, if your phone allows you to accept a Micro SD card, you can add a 32 GB or 64 GB Micro SD card at a pretty reasonable price. If you find a deal on a 128 GB card and your phone supports it, even better.
Having a Micro SD card will allow you to move your music, photos, videos and downloaded files to the SD card to free up space on your phone if you wanted to install more apps or games. Another benefit of the SD card is that you can use an SD card reader to copy the files from the Micro SD card to your computer for easy backups or swap Micro SD cards while on vacation if you plan on taking lots of photos or videos.
Summing Up
Whenever I want to clear up storage, I go with the option to clear the cache by app first, before I start deleting or uninstalling any apps, photos or videos. You can usually clear up enough space by clearing the app cache first. Be wary of installing apps that claim they will clean up your phone automatically unless the apps are from Google or your phone's manufacturer. And always try to backup your entire phone using your phone's backup feature before you start deleting or clearing items. Good luck!