Don't like reading? Check out my video review on YouTube instead.
If you're trying to perfect your lighting setup, and something seems missing, this may be the piece you're looking for. The GVM 600S Ring Light nicely fills in shadows and enhances facial lighting for videos and photos.
Technical Specs
✅ Color Temperature: 3200 K to 5600 K
✅ Power: 90 W
✅ LEDs: 480 SMD lamp beads
✅ CRI97+
✅ 1/4″ thread for mounting
✅ Adjustable heights from 32 inches to 87 inches (with supplied stand)
✅ Diameter: 31 inches (with all light rods attached)
✅ Weight: 1.4 kg
Some links may be referral links, which means I earn a small commission for qualifying sales. There is no additional cost to you.
Package Contents
In the package, you get the following:
Carrying bag
Round ring light unit
6X LED light sticks
Adjustable stand
Power cable for the main unit
2X Power cables to separately power the light wands
Camera / Cellphone mount
Build Quality & Setup
The unit is pretty much an all-plastic build. However, the 1/4″ thread mount is metal. Being an all-plastic build, I am always mindful of being extra cautious when moving around the unit because one fall seems like it could seriously damage or crack the plastic.
The light stand is of decent quality, but with a really top-heavy camera and lens setup, especially if there is a monitor involved somewhere, it may be a bit risky to trust. The light stand is adjustable from 32 inches to 87 inches.
The LED light wands come unattached and require the user to insert them into the round ring light portion. Each light rod has a metal contact that interfaces with the main unit when they are plugged in to get power. There isn't a locking mechanism to hold the light wands in place. Instead, they are secured with friction. It takes minimal effort to pull the light rods out of the central unit. Even so, I have not had any light wands fall out due to gravity or when moving the light stand around.
There is also a supplied "L" shape mount to attach a camera or cellphone through the use of a 1/4″ mount. The "L" shape mount attaches to the back of the circular unit using two plastic protrusions for support, along with a 1/4″ thread, pictured below.
Any attached cameras or cellphones can be moved forwards and backwards on a horizontal plane. If you plan on attaching a heavy camera and lens combo, I would be careful due to the all-plastic build of the central unit where the "L" shape mount is connected. Light to medium camera setups will not be an issue, especially if the camera and lens are positioned towards the light stand's center of gravity.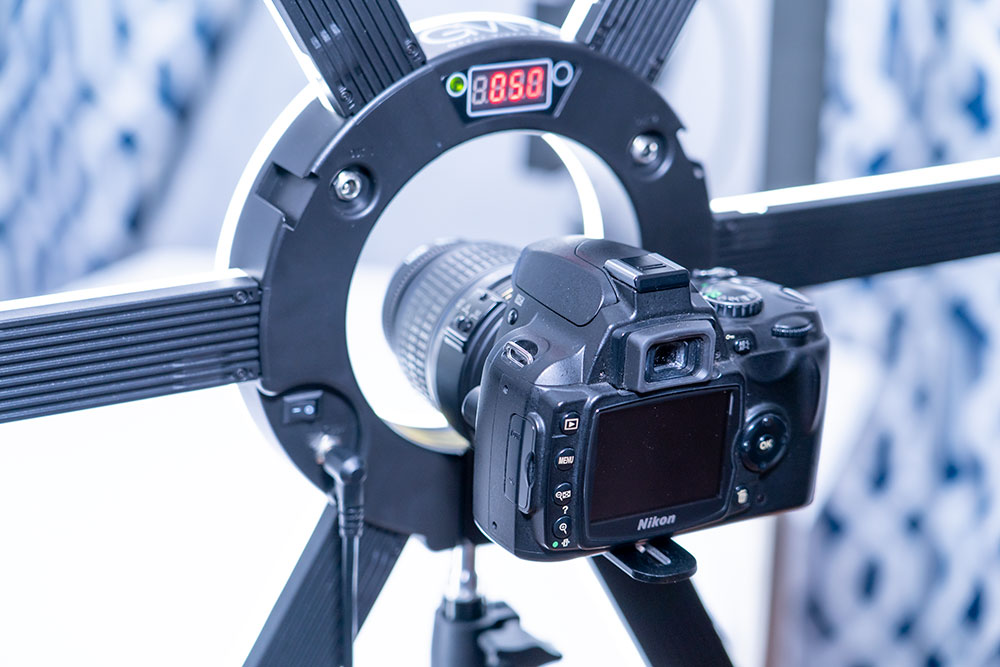 While most users will position the camera dead center in the middle of the ring light, I place the ring light separately to the left of my camera without attaching the camera to the ring light, and I still get great results. The image pictured above is the ideal use case, but I have an external monitor and microphone that I like to use, which makes this setup more challenging.
There is a small LCD display at the top of the unit that shows the brightness or the color temperature.
Operating The Ring Light
Powering on the unit is done from behind from a power switch. This light must be plugged in for power. There is no option for external battery use.
Operating this ring light is so easy. Once powered on, rotate the adjustment knob to change the brightness or color temperature. Click in the adjustment knob to cycle between the color temperature or the brightness output. There is no option to adjust the settings via App or remote control, so you must adjust everything from behind before you sit down for your video.
Brightness & Color Temperature
The light is adjustable from 3200 K to 5600 K, which will cover most uses. One great thing about this ring light is that the light is softened with the matte finish on both the main circular unit and the light rods. There is no need to further diffuse the light. Pictured below is a close-up image of the matte finish.
The light output is quite bright at the maximum 100% setting. In fact, it's so bright that in some rooms or conditions, it could serve as a single light setup for talking or speaking style videos.
You also have the option of only using the main circular ring light with no light rods attached for a smaller setup. You also have the option of detaching two of the light rods and powering them with the two additional power cables meant for the light rods. You'll just have to find a way to position the light rods since there are no mounting holes on them.
Lighting Examples – Time Stamped
Check out these video segments to see the light in action:
5600 K Test – 25% to 100% Brightness: https://youtu.be/btIcRAy1xVw?t=284
3200 K Test – 25% to 100% Brightness: https://youtu.be/btIcRAy1xVw?t=332
Summing Up
I am super impressed with this ring light for the cost, performance and ability to customize the light by adding light rods to get the perfect amount of lighting. Sure, you can get a cheaper ring light, but you'll be stuck if you ever find yourself wanting more brightness. This light lets you grow with its customizability.
I do wish there was an option to adjust the settings via an App or remote control, but this is a small complaint. One important thing to note is that every time you turn the light off, then back on, it defaults all settings, so you have to manually dial in the desired color temperature and brightness. This is a minor inconvenience, but it would be great to see it addressed in a newer version.
This is a great light for indoor use. I would not want to move it around too much or disassemble and reassemble it too many times due to the plastic build quality. Still, I've been using it for over a year without any issue.
It can also be had for a cheaper price directly from GVM's website here: https://gvmled.com/gvm-600s-led-ring-light-detachable-light-bars/
If there is anything that I missed in the review, or if you have any questions that I did not cover, please leave a comment below.
Some links may be referral links, which means I earn a small commission for qualifying sales. There is no additional cost to you.