Update: As of May 2022, Logitech has released a new version of the MX Master 3 called the MX Master 3S. Check out that review here or a video review down below.
As an Amazon Associate I earn from qualifying purchases.
With deals on the Logitech MX Master 2 and Logitech MX Master 2s mouse on right now, you may be wondering if the MX Master 3 mouse is worth the price. If you value ergonomics, wished for improved button placement, then yes, the Logitech MX Master 3 mouse is worth it. Let's get into the full details.
Btw, check out my review on the new Logitech Lift Vertical Ergonomic mouse if you're interested in the vertical mouse waters.
Included In The Package
In addition to the mouse, the package includes a USB Type-C charging cable, which is great since that is the standard spec now for most devices. It also comes with a USB receiver for wireless connectivity if you do not want to pair the mouse through Bluetooth.
Design & Build Quality
The build quality on this mouse is better than on previous Logitech mice. The mouse is made of plastic with a slightly rubberized finish, which ensures a solid grip even after a full day of use. There is no detectable wobble or shifting of the mouse or the mouse feet when moving the mouse.
The main scroll wheel with the MagSpeed Electromagnetic scrolling does have minimal horizontal movement, but it is not detrimental in any way to the use of the mouse or the scroll wheel. I suspect this is to have a little tolerance, so it doesn't bump in the side housing when the mouse wheel is rotating at full speed, which by the way, is quite fast! The main scroll wheel is made of machined steel that will surely be very durable.
The mouse has an LED light near the thumbwheel, but it is a solid light bar, to show that the mouse is on, or that it requires charging. It does not show how many bars of battery life are remaining.
Ergonomics & Feel
This mouse feels good in the hand compared to other Logitech MX master models. It is perfectly sculpted for your hand to wrap around it. I found my hand naturally conforming to it after a week of use coming from a slightly smaller mouse. The thumb rest area is more than adequate to let your thumb have a place to relax.
Buttons & Wheels
Mouse Buttons
The mouse has 7 programmable buttons, two scroll wheels, a button to turn the mouse on and off located on the bottom, and another button to switch the mouse input between various devices, also at the bottom. You have your standard right and left click buttons. In addition, it has a forward and backward button near where your thumb rests. The main scroll wheel is also clickable. There is a button at the bottom of the extended thumb rest area. Lastly, the button used to activate and deactivate hyperfast scrolling can be reprogrammed if needed. This button is not raised in any way, so it is kind of hidden and easy to miss. However, I find myself using this button a lot, once I have it mapped how I like (to open the This PC screen to access all my drives).
Scrollwheels
The thumbwheel scrolls regularly, and the placement is ideal; however, I do not find myself using the thumbwheel that often.
You also have the main scroll wheel, which is made of machined steel and capable of hyperfast scrolling. Now, this might sound like marketing hype, and I was a bit unsure about how much I would be using this feature personally. During the first day or two, I found myself using the mouse in the normal mode without the hyperfast scrolling feature, which can be activated or deactivated with a physical button near the wheel. However, once I turned it on, I can no longer imagine going back to a regular scroll wheel. The hyperfast scrolling feature lets you scroll through pages or data quickly with a flick of your finger, and enables you to stop in an instant by touching the wheel.
I find myself using this feature when going through Excel files, scrolling through Youtube videos or my video history, scrolling through WordPress blocks, photo directories, etc. The only drawback to using this feature is that sometimes you can overscroll by mistake since it is quite precise and sensitive. There is almost no drag due to how smoothly and quickly it spins.
Unique Features
While I view the hyperfast scrolling as the best feature of this mouse, there are other features that add value to it.
Extensive Customization Options Via Software
This mouse lets you map a ton of features to any buttons you want. For example, I do not use the forward or back button, so I have them mapped to copy and paste. Once you map this mouse how you like, it really speeds up your workflow. Here are some of the mapping options you have.
Application-Specific Button Mapping
In addition to mapping the mouse buttons while using Windows and software, you can also have custom mapped buttons for specific applications. So you could have separate mouse button maps for Excel, and separate maps for Chrome, Photoshop, etc. Logitech has custom button maps for some popular applications, but for most other applications, you will have to enable developer mode to use your own custom button mapping.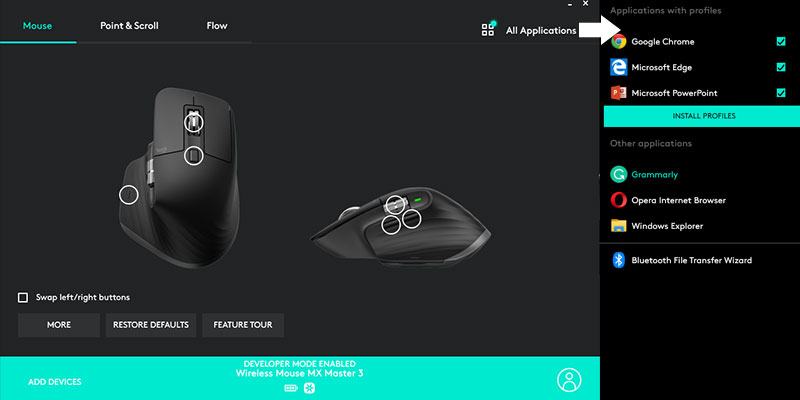 Use On Multiple Devices Effortlessly
I often need to switch from working on my desktop to my laptop, and this mouse allows you to connect to a maximum of 3 devices and switch between them easily. Once you pair the mouse with your devices through Bluetooth, you can flip the mouse over and press the button at the bottom to switch to another device quickly since it was already paired. This means you can have a work laptop and personal computer and easily use the mouse between both devices if needed.
Copy & Paste Files Between Devices
If you want added functionality beyond just using your mouse between different devices, depending on if you are at home or away from home at work, you also have the option to copy and paste files between two devices. This comes in handy if you are troubleshooting and need to copy driver or setup files, or if you want to grab a file from your work computer to backup on your home computer. This feature requires setting up a feature Logitech calls Logitech Flow. It requires that the Logitech Options be installed on both computers and the mouse setup on both. Both computers also need to be on the same network (whether wired or wireless). This software even lets you do this between a Windows & Mac.
Battery Life
Battery life is great so far. I charge my battery every 2 months, but I use the mouse daily for at least 8 to 10 hours. The mouse can be used while charging via USB-C cable, which means it also charges in a reasonable time. The mouse uses a non-removable rechargeable lithium-polymer battery. The battery capacity is 500 mAh. As mentioned above, the LED light on the mouse does not give precise numbers of remaining battery life in terms of battery indicator bars. Not a big deal, but something Logitech should consider for the next version of this device.
Sensor & Tracking
This mouse uses Logitech's Darkfield high-precision sensor at 4000 DPI for improved tracking across various surfaces. I've tested it on my wooden desk, mousepad and a glass surface, and it had no issues tracking.
Price & Value
This mouse has dropped recently in price by around $10 to $20. It is still quite a sizable investment for a mouse, but if you value the productivity features it allows you, it is worth it.
Verdict?
If you find yourself want more buttons for increased productivity, this is an amazing option. The ability to create custom mapping for buttons while using Windows, or while in a specific application such as Excel, Chrome, Lightroom, etc. is truly a time saver. Imagine how much time you can save when editing and performing repetitive tasks by being able to map keyboard shortcuts. The battery life lasts long enough that charging it isn't a chore, and you haven't experienced web browsing properly without giving the hyperfast scroll feature a go.
As an Amazon Associate I earn from qualifying purchases.